40 Ukrainians won Erasmus+ grants to acquire master's degrees in European Universities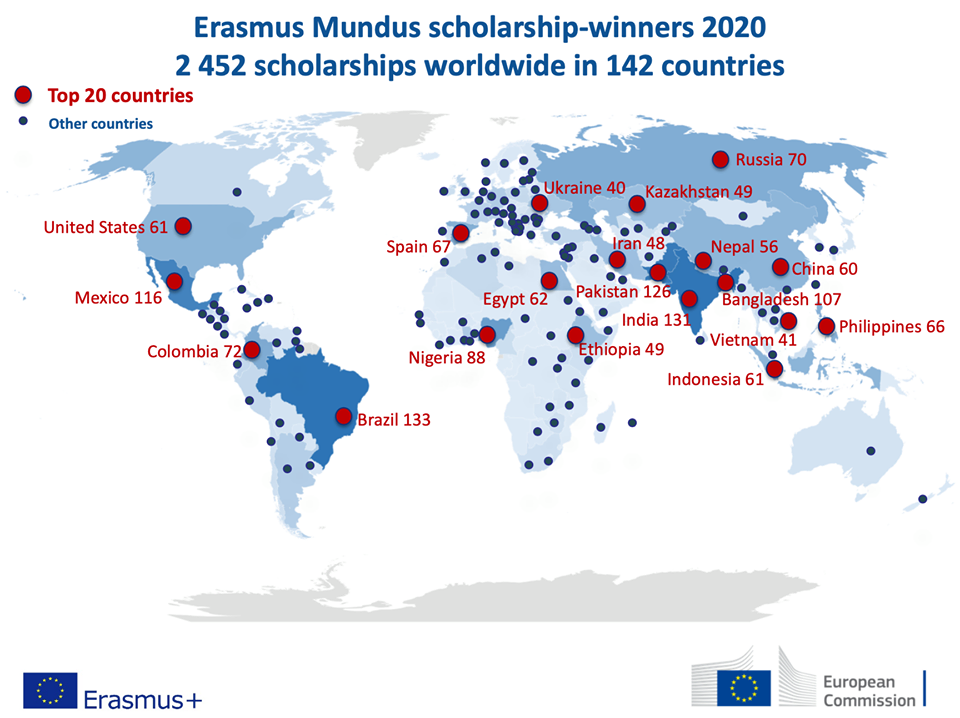 A total of 40 Ukrainians out of the 2 452 winners of the сall 2020 from all over the world will study at one of 123 Erasmus Mundus Joint Master Degree programmes (EMJMDs) in Europe with the financial support of the EU's Erasmus+ Programme. The 2 452 scholarship-winners come from 142 different countries spread over six continents.
"Ukrainian Erasmus Mundus students are considered as 'Ukrainian Ambassadors' and 'Soft Diplomats' to promote and support Ukraine in Europe. After graduation they will make Ukraine a better place, helping their country move on its European path," highlighted Ambassador Matti MAASIKAS, Head of the EU Delegation to Ukraine.
The Ukrainian winners consists of 33 female and 7 male representatives from Kyiv, Odesa, Zaporizhzhia, Kharkiv, Dnipro, Ostroh, Poltava, etc. The students from Ukraine will start Erasmus Mundus Joint Degrees (EMJMDs) this August-September at the best universities of Sweden, Estonia, Finland, Italy, Spain, Ireland, the Netherlands, France, Belgium, the United Kingdom, Portugal, Austria, and Germany.
This year, Ukrainian students were interested in the following fields of study: Urbanisation, Globalization and Gender Studies; Nanomedicine, Neuroscience and Health; Tourism, Culture, Media and Art; Engineering and IT; Economy and Entrepreneurship; Climate Changes etc.
In total, 256 applications were submitted from Ukraine among 29 145 participants competing from other 180 countries of the world. Together with Ukraine the following countries are in TOP 20 list which represent the best results within the 2020 call: Bangladesh, Brazil, China, Colombia, Egypt, Ethiopia, India, Indonesia, Iran, Kazakhstan, Mexico, Nepal, Nigeria, Pakistan, Philippines, Russia, Spain, United States, Vietnam. In addition, 950 candidates from Eastern Partnership countries (Armenia, Azerbaijan, Belarus, Georgia and Moldova) applied, with 115 applications being successful, which means that this year Ukraine has shown the best result among Eastern Partnership countries.
A total of 248 Ukrainian students have studied at EMJMDs since 2014, including 234 Master and 14 PhD students.
DOWNLOAD the infographics HERE.
Additional information: Erasmus+ – is the European Union Programme for 2014-2020 to support international cooperation projects, partnerships, events and mobility in education, training, youth and sport.
Erasmus Mundus Joint Master Degrees are unique master programmes of excellence developed by a consortium of a minimum of two European universities which provide grants that fully cover the study programme, internship, travel cost, insurance, visa support, plus scholarship of EUR 1 000 per month, etc. In addition to their main curricula, students will be enrolled at language courses, learn about the countries of their stay, discover and enjoy new culture together with groupmates from around the world.