Annual meeting of EU Networks in Ukraine (23.11.2020, on-line)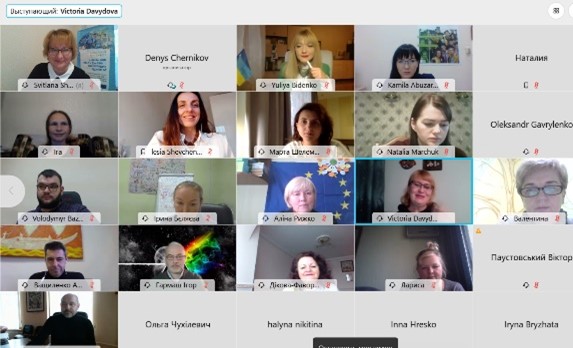 On 23-24 November 2020 the EU Delegation to Ukraine organised the annual EU Networks Forum (on-line), bringing together more than 70 representatives from different regions of Ukraine.
Speakers and experts of the event: Matti MAASIKAS, Ambassador, Head of EU Delegation to Ukraine; Victoria DAVYDOVA, Press and Information Adviser of the EU Delegation to Ukraine; Maryna POTAPENKO, Deputy Minister of Youth and Sports of Ukraine; Rimma EL JUWEIDI, General Director of the Directorate for Strategic Planning and European Integration of the Ministry of Education and Science of Ukraine; Svitlana SHYTIKOVA, National Erasmus+ Office Coordinator in Ukraine.
The event consisted of 2 working days. During the Part 1, participants learned about:
• main results of the project "Information support of EU networks in Ukraine" in 2020;
• approaches to business planning in 2021;
• a new cycle of the Erasmus+ Programme for 2021-2027.
During the presentation, NEO in Ukraine Coordinator Svitlana SHYTIKOVA highlighted the structure of the EU Erasmus+ Programme, the main achievements for Ukraine, and also presented the possibilities of a new generation of the Programme for 2021-2027.
During the 2nd part of the event, participants took part in training on digital skills and digital security, on challenges of misinformation and information protection, and on communications. Participants were also able to present best practices online at European Information Centers, Euroclubs and among Team Europe Ukraine.