Cluster Facebook-webinar "Erasmus+ during the pandemic COVID-19: challenges and solutions" (31.03.20)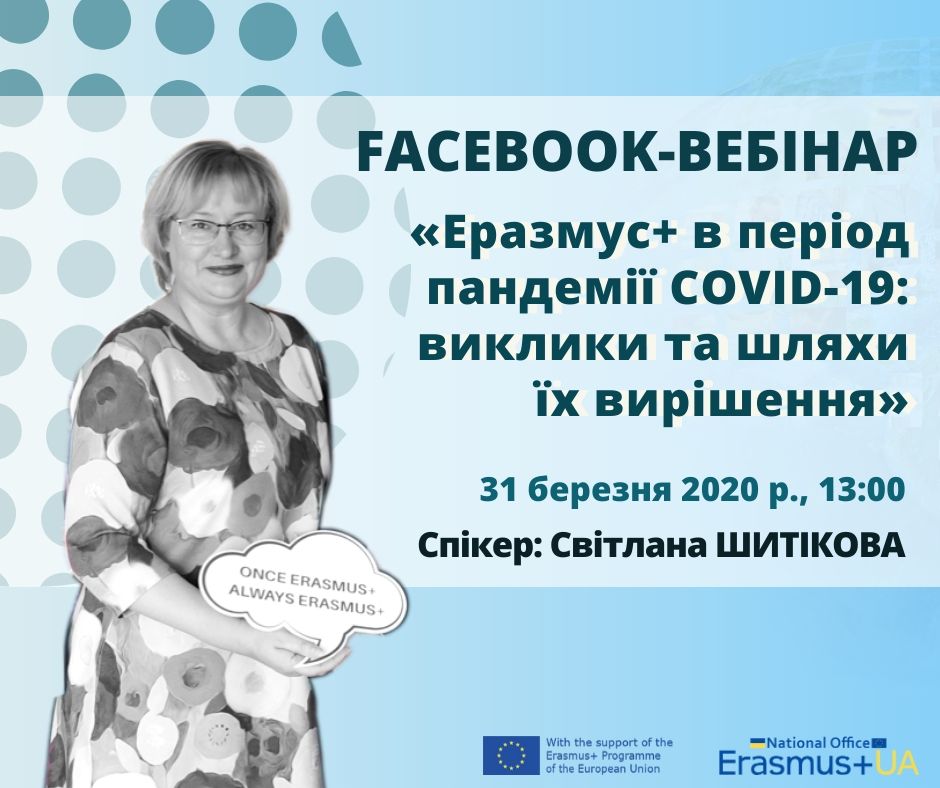 On March 31, 2020 National Erasmus+ Office in Ukraine organised Cluster Facebook-webinar on "Erasmus+ during the pandemic COVID-19: challenges and solutions".
More than 3000 representatives of Ukrainian universities IROs, Erasmus + coordinators and representatives of ICM, CBHE and Jean Monnet project teams joined the online.
During a Facebook-webinar, Svitlana SHYTIKOVA, NEO – Ukraine Coordinator, spoke about the coordination of Erasmus+ projects on academic mobility, capacity buioding in HE and Jean Monnet within the COVID-19 pandemic. The speaker explained key steps on Erasmus+ projects implmentation in accordance with the recommendations of the EACEA.
During the video-connection, speaker highlighted the following documents:
Updated: Covid-19 coronavirus prevention measures (to att.: Erasmus+ projects teams and mobility staff and students)
All info about COVID-19 in Ukraine: official portal of the Cabinet of Ministers of Ukraine (here), Ministry of Health of Ukraine (here) and Ministry of Education and Science of Ukraine (here).
We remind you that by subscribing to our Facebook page and newsletter of our site, you will be able to be informed as soon as possible about all relevant information, events and materials.
You are welcome to join the NEO – Ukraine Facebook page and website to stay in touch with all the announcements, events and materials!
We thank everyone who joined the webinar!
Wish you health and peace. Let's keep in touch!