Erasmus+ Information day and training (19.04.2018, Kharkiv)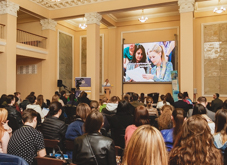 On April 19, 2018, Kharkiv, NEO-Ukraine team together with Kharkiv City State Administration and V. N. Karazin Kharkiv National University organized Information Day of the EU Programme Erasmus+. The Infoday was devoted to the presentation of the architecture of the Programme and its Key Actions (International Credit Mobility, Capacity Building in Higher Education, Jean Monnet) for different target audiences: students, staff, HEIs administration, business representatives, NGOs and public authorities from Kharkiv region.
The participants were presented the main features of Erasmus+ KA, preparation stages, key documents, application form, partner search etc. As a result of the event, a series of interviews with local and regional media on the opportunities and results of the Programme in Ukrainian HEIs 2014-2018 in Kharkiv region were reached.
Within the Information Day, a workshop-training "Projects under the EU Programme Erasmus+" was conducted. NEO-Ukraine team paid attention to practical aspects of project proposals preparation and partner search. Participants increased their knowledge in the Key Action1: International Credit Mobility and Jean Monnet.
Useful materials about the Erasmus+ and promo materials were disseminated. Improved awareness of Erasmus+ for potential applicants and higher education stakeholders in general. Improved knowledge of the Erasmus+ for beneficiaries (organisations and individuals).
More details at the link