Opening of the «USPU Ecosystem» Centre at Uman State Pedagogical University under Erasmus+ CBHE MOPED project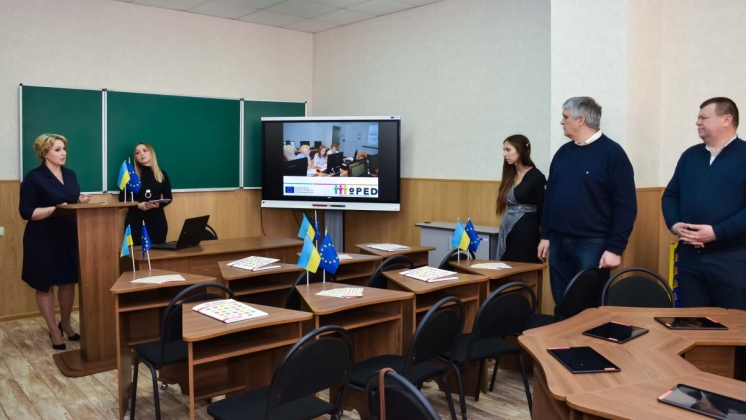 On 14 February 2020, the Pavlo Tychyna Uman State Pedagogical University officially opened the doors of innovative structural unit – the Center for Advanced Educational Technologies "USPU Ecosystem", which was established at the Faculty of Physics, Mathematics and Informatics. The opening of this Center is the result of the implementation of ERasmus+ CBHE MOPED project.
Center for the latest educational technologies "USPU Ecosystem", which will operate on the basis of two laboratories equipped with the latest technology (personal computers, tablets, 3D printers, presentation equipment, flipchart, interactive display, interactive whiteboards, projectors, screen, laptops, etc.) , will provide development, introduction and improvement of innovative methods of preparation of future experts on the basis of European and Ukrainian good practices.
The Center will implement its activities through the active cooperation of faculty, PhD students, graduates, students and staff to get acquainted with the current range of problems in the field of innovation in science, mathematics and computer-oriented disciplines.
Representatives of NEO – Ukraine – Svitlana SHYTIKOVA and Zhanna TALANOVA joined the meeting with a welcoming speech and consultation on recommendations for the successful implementation of higher education capacity development projects.
More details here – https://udpu.edu.ua/news/v-universyteti-vidkryto-tsentr-novitnikh-osvitnikh-tekhnolohiy-uspu-ecosystem