Participation in the meeting between NAQA (Ukraine) and AIC/AIKA(Latvia)(15.10.2020, online)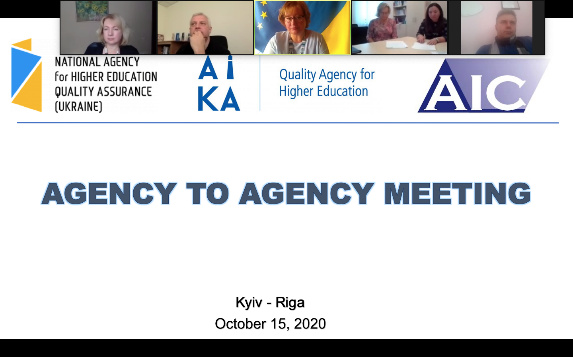 On October 15, NAQA held an online meeting with the Latvian Academic Information Center (AIC), one of the departments of which is the Quality Agency for Higher Education (AIKA). The Latvian agency was represented by Baiba RAMIŅA, Chairperson of AIC Board, Jolanta SILKA, Head of AIKA, Asnate KAŽOKA, Head of Development and International Cooperation Unit, AIKA, Ilva GRIGORJEVA, Head of Quality Assessment Unit, AIKA.
On behalf of the NAQA, the meeting was attended by Dr. Prof. Serhiy KVIT, NAQA Head, Dr. Prof. Nataliia STUKALO, NAQA Vice-Head, Dr. Prof. Ihor OLEKSIV, NAQA Member, Ms. Albina TSIATKOVSKA, International Project Manager.
Svitlana SHYTIKOVA, Coordinator of the National Erasmus Office in Ukraine, also made a welcoming speech and highlighted the importance of the cooperation with European Quality Agencies to strengthen the Bologna Process and values of EHEA.
During the meeting, the parties exchanged experiences in solving problems related to the pandemic and the changes that accompany it. Particular attention was paid to the issue of independence of quality assurance agencies and sources of funding for accreditation expertise. Among other things, they also discussed opportunities to participate in joint projects and attract foreign experts to conduct accreditations.
It is also worth noting that the cooperation between the agencies was launched last year within the Erasmus + project. This autumn Ukrainian experts took part in accreditation examinations conducted by the Latvian Agency in the HEIs of Ukraine. The experience and impressions got by NAQA experts after participating in such examinations will be posted soon. Latvian colleagues noted the high professionalism of our experts and expressed their positive impressions of working with them.
At the end of the meeting, the National Agency and the Latvian Academic Information Center solemnly signed a Cooperation Agreement between the Agencies.