Seminar "Internationalization in HEIs in Ukraine" (26.06.2018, Poltava)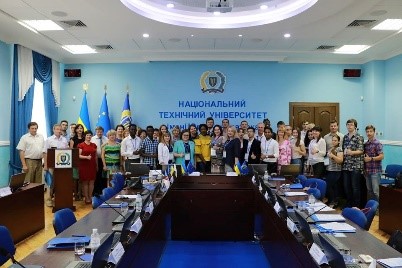 On 26 June 2018, the seminar "Internationalization in HEIs in Ukraine" was organized in the Poltava National Technical Yuri Kondratyuk University jointly with the Ukrainian State Center for International Education, Ministry of Education and Science of Ukraine.
60 participants took part in the event among which there were Olena SHAPOVALOVA, Director of the Center, Mykola YAKYMENKO, Deputy Head of Migration Service in the Poltava Region, HEIs' representatives from the Kharkiv, Cherkasy, Kherson, Poltava regions, foreign students of the hosting University.
The NEO-Ukraine manager Ivanna ATAMANCHUK joined the event and presented Erasmus+ individual international credit mobility and EMJMDs opportunities for Ukrainian university staff and students, including foreign students studying in the Ukrainian HEIs.
During the seminar, the speakers and students also covered the issues of adaptation of foreign students to study and life in Ukraine, international students visa and permanent permit for international students coming to Ukraine for study.
The details are available at: http://pntu.edu.ua/news/seminar-u-poltntu.html