Ukrainian organisations won 38 new projects on European integration under Erasmus+ Jean Monnet Activities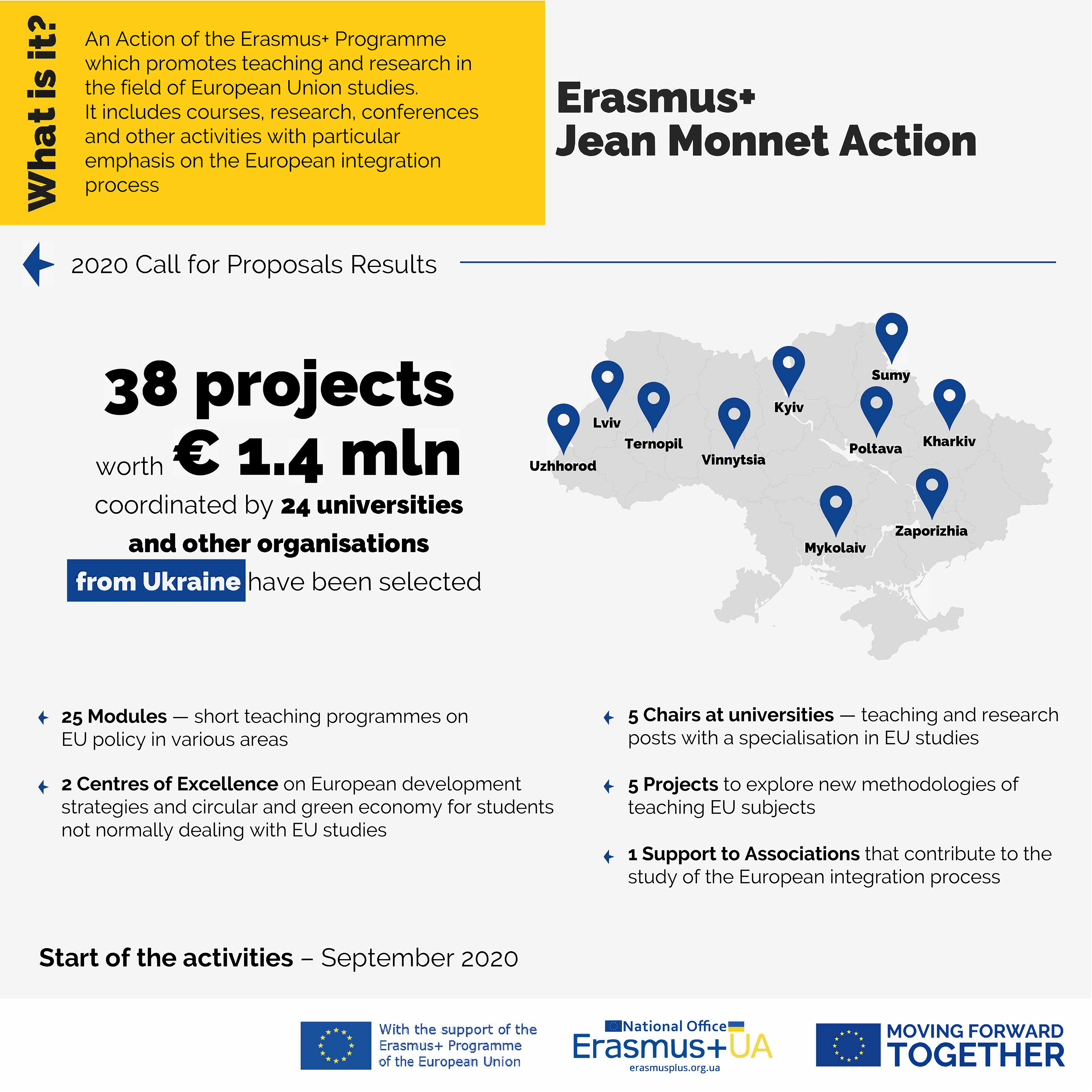 38 Jean Monnet projects coordinated by 24 universities and other organisations from Ukraine have been selected for a total grant funding of over €1.4 million under the European Union's Erasmus+ Programme. In total, 360 projects were selected for funding. These are the results of the 2020 Call for Proposals announced by the Education Audiovisual and Culture Executive Agency (EACEA) of the European Commission.
"Jean Monnet Activities are an important part of the integration of Ukrainian Higher Education Institutions, research organisations and civil society into the European academic, research and policy landscape. Through the study of the legal framework and good practices, Ukrainian students, academic staff, researchers and the community in general are approaching European standards in various fields. I find this very important when we talk about Ukraine and its path to political association and economic integration with the European Union, which actually begins with people and their own understanding and aspirations," underlined Ambassador Matti MAASIKAS, Head of the EU Delegation to Ukraine.
Jean Monnet Activities include courses, research, conferences and other activities in the field of EU studies, which comprise the study of Europe with particular emphasis on the European integration process. In particular, 38 winning Ukrainian projects cover the following:
25 Jean Monnet Modules which are short teaching programmes on EU policy in transport, food law, rural tourism, small and medium enterprises and cybersecurity; EU integration within the legislation on the internet of things, e-democracy, civil aviation, decentralisation and public governance; EU good practice in research studies, teaching and soft skills development, intercultural communication, urban revitalisation, etc.
2 Jean Monnet Centres of Excellence on European development strategies and circular and green economy. They will reach out to students from faculties not normally dealing with European Union studies as well as policy makers, civil servants, organised civil society and the general public to create links between different disciplines
5 Jean Monnet Chairs at universities – teaching and research posts with a specialisation in European Union studies

5 Jean Monnet Projects

which will explore new methodologies to make EU subjects more attractive and adapted to various audiences, as well as promote discussion and reflection on EU issues and disseminate activities

1 Jean Monnet Support to Associations

that will contribute to the study of the European integration process
Starting from September 2020, 24 organisations from different regions of Ukraine (Kharkiv, Kyiv city, Lviv, Mykolaiv, Poltava, Sumy, Ternopil, Uzhhorod, Vinnytsia, Zaporizhia) will begin implementing these Erasmus+ Jean Monnet activities:
21 Higher Education Institutions: DONBAS STATE PEDAGOGICAL UNIVERSITY, IVAN FRANKO NATIONAL UNIVERSITY OF LVIV, KHARKIV NATIONAL UNIVERSITY OF RADIO ELECTRONICS, KIEV NATIONAL UNIVERSITY OF TECHNOLOGIES AND DESIGN, LVIV POLYTECHNIC NATIONAL UNIVERSITY, NATIONAL AVIATION UNIVERSITY, NATIONAL DRAGOMANOV PEDAGOGICAL UNIVERSITY OF UKRAINE, NATIONAL TECHNICAL UNIVERSITY OF UKRAINE IGOR SIKORSKY KYIV POLYTECHNIC INSTITUTE, NATIONAL UNIVERSITY OF FOOD TECHNOLOGIES, NATIONAL UNIVERSITY OF KYIV-MOHYLA ACADEMY, NATIONAL UNIVERSITY OF LIFE AND ENVIRONMENTAL SCIENCES OF UKRAINE, OLEKSANDR DOVZHENKO HLUKHIV NATIONAL PEDAGOGICAL UNIVERSITY, PETRO MOHYLA BLACK SEA NATIONAL UNIVERSITY, POLTAVA UNIVERSITY OF ECONOMICS AND TRADE PUET, SIMON KUZNETS KHARKIV NATIONAL UNIVERSITY OF ECONOMICS, SUMY NATIONAL AGRARIAN UNIVERSITY, SUMY STATE UNIVERSITY, TERNOPIL IVAN PULUJ NATIONAL TECHNICAL UNIVERSITY, UZHHOROD NATIONAL UNIVERSITY, VINNYTSIA STATE MYKHAYLO KOTSYUBYNSKIY PEDAGOGICAL UNIVERSITY, ZAPORIZHZHYA NATIONAL UNIVERSITY
2 NGOs: PUBLIC ORGANISATION UKRAINIAN INSTITUTE OF CRISIS MANAGEMENT AND CONFLICT SOLUTION, UKRAINIAN ASSOCIATION OF PROFESSORS AND RESEARCHERS OF EUROPEAN INTEGRATION.
1 research institution – INSTITUTE OF PEDAGOGY OF THE NATIONAL ACADEMY OF EDUCATIONAL SCIENCESOF UKRAINE.
FIND OUT MORE IN THE INFOGRAPHICS.
In the context of Erasmus+ Calls for Proposals 2014-2019 in total 791 proposals were submitted by Ukrainian applicants, out of which 82 Jean Monnet activities were selected for funding. Those activities include 56 Modules, 2 Centres of Excellence, 7 Chairs, 5 Projects, 5 Networks and 7 Support for Associations activities, implemented in the field of European Studies in 20 cities of all over Ukraine by 49 organisations: 36 Ukrainian Higher Education Institutions, 3 research institutions and 10 NGOs. The total grant amount allocated is over EUR 3.7 million.
Background information:
Erasmus+ is the European Union Programme for 2014-2020 to support international cooperation projects, partnerships, events and mobility in education, training, youth and sport.
The information on the selection results of the Jean Monnet Action 2020 Call for Proposals is available at the portal of the Education, Audiovisual and Culture Executive Agency: https://bit.ly/34atELE
Guidelines, recommendations and other support information for the winners can be found at the EACEA Beneficiaries space: https://bit.ly/3g1U5FO
Database with Erasmus+ projects for Ukraine is available at the National Erasmus+ Office in Ukraine at https://bit.ly/312E0Kh