17th session of EU Study Days in Ukraine (17.02.17)
On 16-19 February 2017 EU Study Days in Ukraine held 17th session for student all over Ukraine. Participants got new skills and knowledges on European Union policy from representatives of EU Delegation to Ukraine – Victoria DAVYDOVA and Jurgis VILCINSKAS. Taras KACHKA, leading expert in the negotiations of the Association Agreement, explained why Ukrainian businesses have new opportunities in global markets and the EU. Mykhailo GONCHAR, Ukrainian energy expert, taught participant to analyze power factor within policy and security threats. Kateryna ZHDANOVA, NEO Ukraine individual mobility manager, highlighted opportunities on credit and degree mobility programmes for students and staff.
Also, students talked about visa liberalization with Iryna SUSHKO, executive director of NGO "Europe without barriers". Session program included a number of interactive games, including the game "Values and Diversity: Abigail" and "Decision-making process in the European Union (EU Council model)."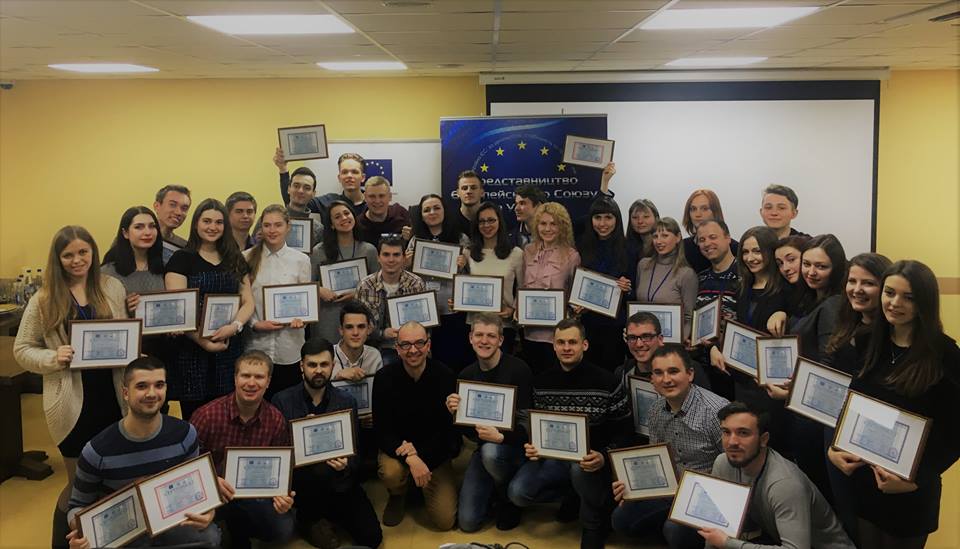 The European Union project «EU Study Days in Ukraine» unites students and graduates from all regions of Ukraine and gives opportunities for young people to learn more about the EU and European integration of Ukraine, and aims to create a future network of active young people for experiences exchange and joint initiatives implementation in the future. Almost 600 students were graduates of the EU Study Days from 2013 to 2016. More 200 students this year will join the community after new sessions in Vinnytsia, Ivano-Frankivsk, Mariupol, Mykolaiv and Zaporizhia.
More information on EU Study Days events: www.facebook.com/EUStudyDays
Materials prepared on the information of EU Study Days website: https://eustudydays.com/