3rd Annual Convention of the Association of European Studies for the Caucasus within Erasmus+ Jean Monnet (19-20.04.19, Odessa)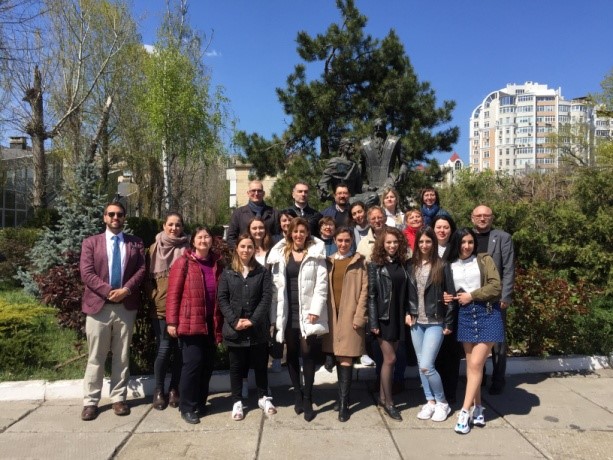 On April 19-20, 2019 the third Annual Convention of the Association of European Studies for the Caucasus took place at Odessa I.I. Mechnikov National University (ONU) dedicated to the inter-regional cooperation experience in the Black Sea area and in the Caucasus with particular attention to the issues of norm diffusion, legal approximation and contestation. The III AESC Annual Convention has been organized within the framework of Jean Monnet project ProAESC 600053-EPP-1-2018-1-GEEPJMO-SUPPA.
In the welcome speech Victor Hlebov, the Dean of the Faculty of International Relations, Sociology and Political Sciences of the ONU stressed upon the key role of the Black Sea region in ensuring peace and stability in local and global dimensions. Oksana Holovko-Havrysheva, the president of the Ukrainian Association of European Studies noted that the Black Sea and Caucasus countries have huge potential in developing visions for peaceful coexistence in these areas, and the academic community has to be an independent forum for their formation and disputation. Thomas Kruessmann, the President of the Association of European Studies for the Caucasus presented the AESC aims and tasks, welcomed the participants and shortly described challenges which the countries around the Black Sea and in the Caucasus face and mutual efforts for their successful solution are required.
AESC Convention participants from Ukraine, Germany, Azerbaijan, Austria, Georgia, Turkey, Moldova, the USA and Armenia discussed problems of the realization of the Association Agreements between the EU and Georgia, the EU and Ukraine, the Europeanization of legal methodology in Black Sea and Caucasus regions, cooperation between the EU and Azerbaijan, EU's experiences of the cooperation with the Caucasus countries, cooperation between the EU and Armenia, regionalization in the Black Sea region with a particular attention to GUAM, Black Sea Economic Cooperation Organization and Turkey's vision of Transatlantic relations in the Black Sea, cultural and social transformations in the South Caucasus and Black Sea as well the cooperation between the Baltic and Black Sea countries.
Besides the academic discussions the AESC participants were introduced with the publication possibilities in AESC Working Paper Series, AESC Book Series and Kyiv-Mohyla Law& Politics Journal. The new Master program in Baltic-Black Sea Regional Studies (https://youtu.be/_uT2dzUDYhE) has been also presented to AESC participants. The MA Program will be launched in September 2019 at Ivan Franko National University of Lviv (Ukraine).