6 Ukrainian organizations become partners in Erasmus+ Joint Master Degree Programmes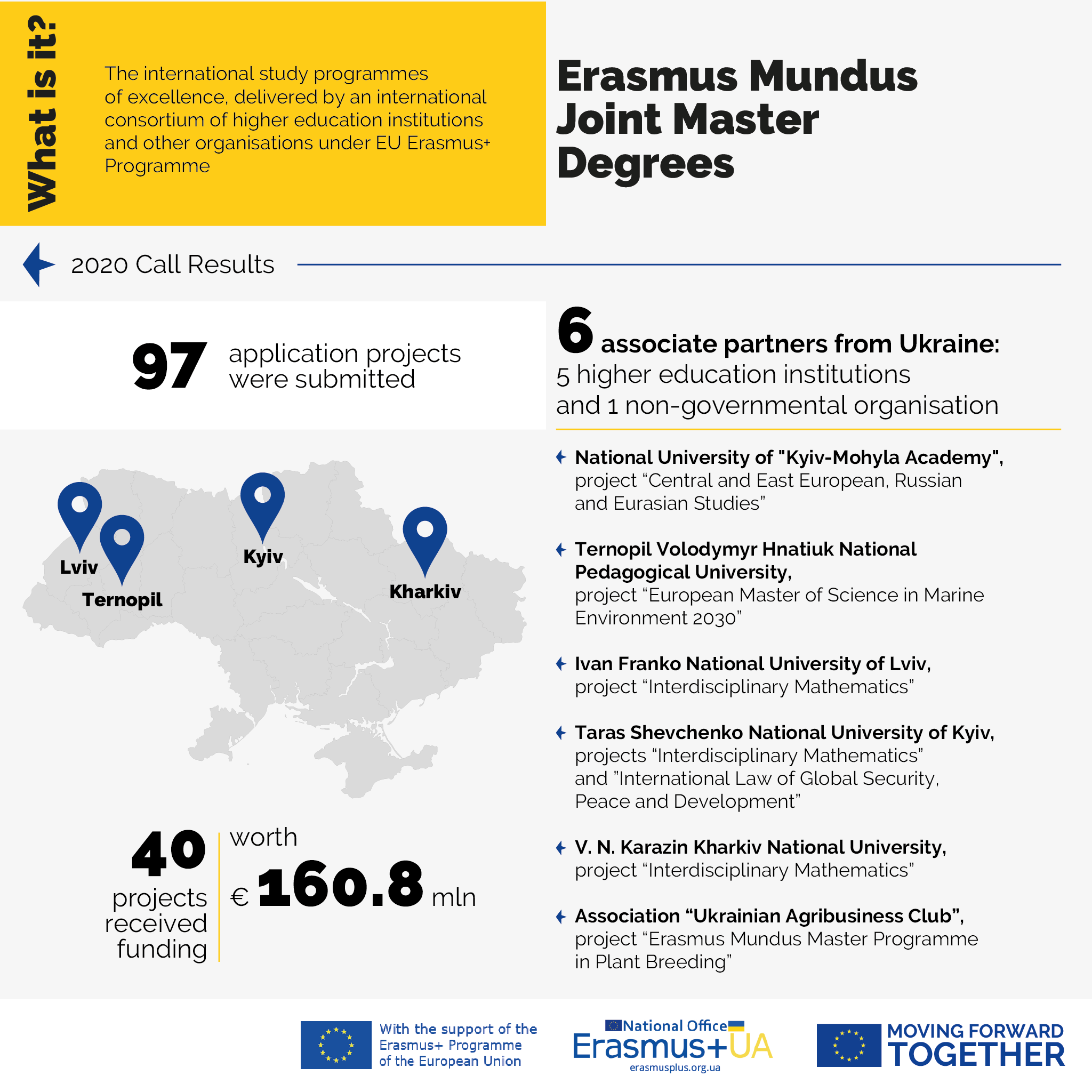 Six organisations from Ukraine have become partners of Erasmus Mundus Joint Master Degrees, the international study programmes of excellence, delivered by an international consortium of higher education institutions and other organisations under European Union Erasmus+ Programme. Out of a total of 97 proposals, 40 Erasmus Mundus projects involving Ukrainian organisations with a budget of EUR 160 mln were selected for Erasmus Mundus funding to open their scholarships for candidates all over the world starting from 2021. The results of the 2020 Call for Proposals were announced by the Education Audiovisual and Culture Executive Agency (EACEA) of the European Commission.
"Ukrainian Erasmus Mundus partners received strong support from the European Union to strengthen their academic autonomy, build international cooperation, increase competitiveness and attractiveness of the Ukrainian higher education," underlined Ambassador Matti Maasikas, Head of the EU Delegation to Ukraine.
In particular, the Erasmus Mundus programmes consortium included 5 Higher Education Institutions and 1 non-governmental organisation from Ukraine as associate partners:
National University of "Kyiv-Mohyla Academy" – Central and East European, Russian and Eurasian Studies;
Ternopil Volodymyr Hnatiuk National Pedagogical University – European MSc in Marine Environment 2030;
Ivan Franko National University of Lviv – Interdisciplinary Mathematics (InterMaths);
Taras Shevchenko National University of Kyiv – Interdisciplinary Mathematics (InterMaths), та International Law of Global Security, Peace and Development;
V. N. Karazin Kharkiv National University – Interdisciplinary Mathematics (InterMaths);
Association "Ukrainian Agribusiness Club" – Erasmus Mundus Master Programme in Plant Breeding.
In addition, under the Erasmus Mundus programmes Ukrainian organisations will be in consortium with the following countries: Argentina, Australia, Austria, Barbados, Belgium, Bhutan, Bosnia and Herzegovina, Brazil, Canada, Chile, China, Colombia, Costa Rica, the Czech Republic, Denmark, Ecuador, Estonia, Finland, France, Georgia, Germany, Greece, Hong Kong, Hungary, Iceland, Iceland, India, Indonesia, Iraq, Israel, Italy, Japan, Kazakhstan, the Republic of Korea, Kosovo, Lithuania, Malaysia, Mexico, Montenegro, Morocco, the Netherlands, Norway, Poland, Portugal, Qatar, Russia, Serbia, Slovenia, South Africa, Spain, Sweden, Switzerland, Tajikistan, Tunisia, Turkmenistan, the United Kingdom, the United States, Uzbekistan, and Zambia.
From 2014 to 2019, within 197 projects, 12 Ukrainian institutions, including 8 universities, 1 research, 2 non-governmental and 1 private organisations were involved as associate partners and 1 higher education institution – as a full partner in 8 Erasmus Mundus Joint Master Degrees consortia.
Find out more in the infographics.
Background information:
Erasmus+ is the European Union Programme for 2014-2020 to support international cooperation projects, partnerships, events and mobility in education, training, youth and sport.
Erasmus Mundus Joint Master Degrees are unique master programmes of excellence developed by a consortium of a minimum of two European universities which provide grants that fully cover the study programme, internship, travel cost, insurance, visa support, plus scholarship of EUR 1,000 per month, etc.
For more details under Erasmus+ Programme, please contact the National Erasmus+ Office in Ukraine: www.erasmusplus.org.ua