64 Ukrainians won Erasmus+ scholarships for master's degrees in Europe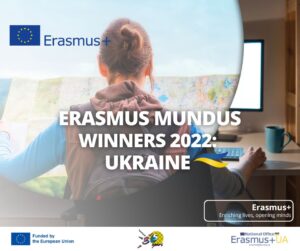 Totally 64 Ukrainians as winners of the 2022 сall will study at Erasmus Mundus Joint Masters at universities in Europe and worldwide within European Union Erasmus+ Programme. Study in Europe has become possible for 46 females and 18 males from Kharkiv, Kyiv, Lviv, Mukolaiv, Odessa, Uzhhorod with the financial support of the EU's Erasmus+ Programme. Another 69 candidates from Ukraine are on the reserve list.
The students from Ukraine will start Erasmus Mundus Joint Masters this autumn at the leading universities of Austria, Belgium, Bulgaria, Czech Republic, Denmark, Estonia, Finland, France, Germany, Italy, Netherlands, Poland, Portugal, Spain, Sweden, United Kingdom. The main subject areas of the students' choice are: Literature, Media, Journalism and Languages; Tourism and Culture; Nature Management, Sustainable Shipping and Ecology; European and Eurasian Studies; Engineering and Software Systems; Innovative Medicine and Public Health; Chemistry; Mathematics; Politics, Economy and Society.
A total of 317 Ukrainian students have studied at Erasmus Mundus Programmes since 2014, including 303 Master's and 14 PhD's students. They are considered to act as 'ambassadors', promote and support Ukraine in Europe and will contribute to Ukraine's development, modernisation and reforms.
Additional information:
Erasmus+ is the European Union Programme that aims to support, through lifelong learning, the educational, professional and personal development of people in education, training, youth and sport, in Europe and beyond. It provides opportunities for learning mobility, projects and partnerships, policy development and cooperation. The Programme is inclusive for people of all ages and backgrounds and open to different types of organisations. Erasmus Mundus Joint Masters are unique master courses developed by a consortium of a minimum of two European universities which provide grants that fully cover the study programme, travel cost, insurance, visa support, scholarship of EUR 1 000 per month, etc. In addition to their main curricula, students will be enrolled at language courses, learn about the countries of their stay, discover and enjoy new culture together with groupmates from around the world.