Council of EU Education Ministers on the sustainability of the European education space and national education and training systems in crisis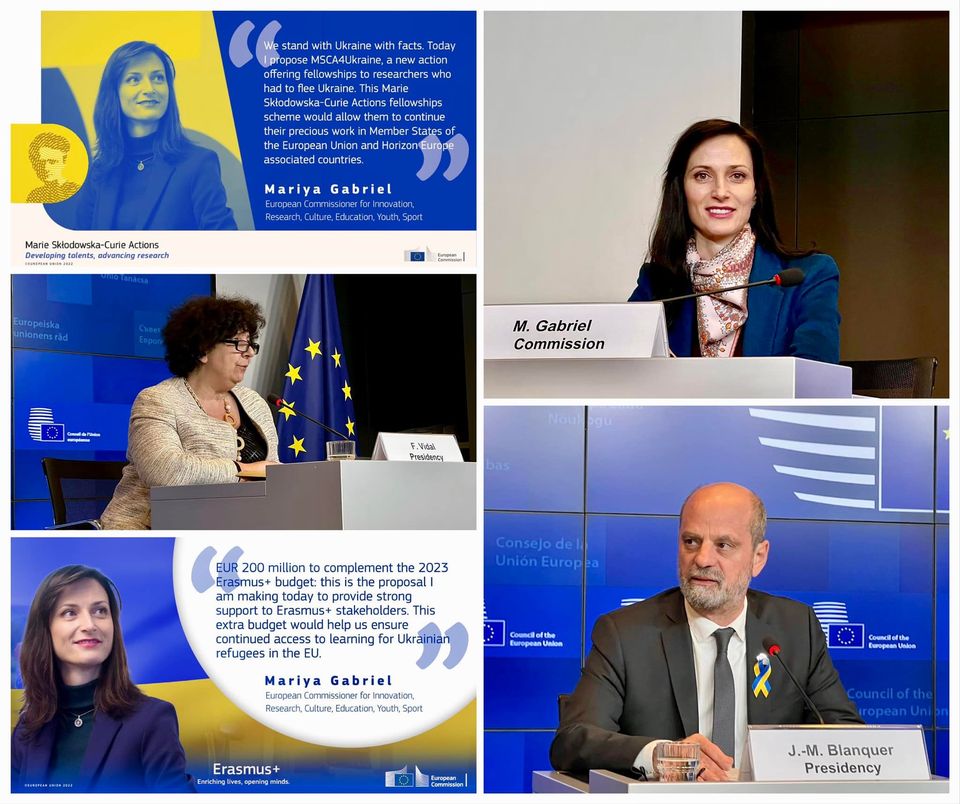 Today's Council of EU Education Ministers focuses on the sustainability of the European education space and national education and training systems in crisis.
"Two major crises have affected Europe in recent years – the COVID-19 pandemic and Russian military aggression in Ukraine. One of the important lessons is that education is key to crisis response. Access to education and socialization in school are central to the personal development of young people. With the member states we managed to give a quick and adequate response – with coordinated actions, with the "Erasmus +" program and access to online educational content.
I emphasized on the concrete results of the emergency measures taken. The new tool "CARE Line of Relay for Refugees in Europe" (CARE) allows countries to provide emergency assistance to Ukrainian refugees. The European School Education Portal has become a place to share experience for engaging young Ukrainians in education systems, including by publishing Ukrainian-language learning materials.
We mobilized the Erasmus + program. Beneficiaries can direct part of the funds on projects to support Ukrainian refugees. Ukrainian teachers will receive support for their integration into host countries, and qualified staff can be sent to the regions where refugees are staying. Over 3,000 Ukrainian teachers have full access to the community for eTwinning educational resources and can start their own projects.
I propose new concrete measures that aim for a comprehensive approach, including preschool, secondary and higher education and science:
200 million euros from the Erasmus + budget for 2027 to be redistributed for 2023 , to provide support for Ukrainian students and teachers in the coming year.
We are targeting 25 million euros for scholarships to Ukrainian researchers through a new action under the "Maria Skladovska Curi" program – MSCA4Ukraine. This will allow 200 researchers for 2 years to carry out their scientific activity at a university in a member state or country associated with "Horizon Europe".
Thank you ministers for the constructive discussion. I believe that with well coordinated actions together with member states we will find the most effective solutions for sustainable education systems in crisis in the long run."
Additional information:
Since the beginning of the crisis in Ukraine, in 2014, the EU and its Member States have contributed over €1 billion in humanitarian and early recovery aid to the country. Since the invasion of Ukraine by the Russian Federation, this support to the people of Ukraine has been scaled up. By stepping up humanitarian assistance and offering financial and operational support to Member States and Moldova, the EU and its Member States are providing a safe haven for people fleeing war in Ukraine. The EU has also reacted swiftly and decisively to Russia's invasion by adopting sanctions that will have massive and severe consequences for Russia.
Today's CARE proposal adds additional flexibility under 2014-2020 Cohesion policy, taking into account the urgency to address the migratory challenges as a result of the military invasion of Russia.
REACT-EU provides assistance to support crisis repair in the context of the COVID-19 pandemic and its social consequences and for preparing a green, digital and resilient recovery of the economy. It is funded under NextGenerationEU and can also be used by Member States to increase the allocation for programmes supported by the FEAD.
A significant part of the €10 billion from the 2022 REACT-EU is also available to Member States to support projects to assist people fleeing Ukraine in line with the overall aim of post-pandemic recovery, without the need for legislative changes. The REACT-EU resources already benefit from a number of implementation flexibilities that are now proposed for the 2014-2020 Cohesion policy.