Cross-Regional TAM Seminar "Enhancing Quality Assurance Impact" (18-19.09.2019, Batumi,Georgia)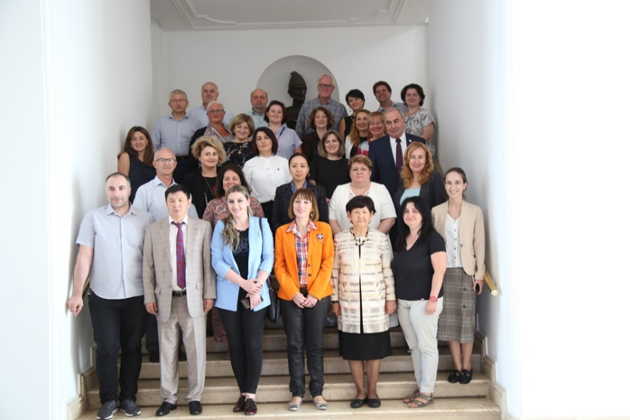 September 18-19, 2019, TAM event – an international cross-regional seminar for National teams of higher education reform experts (HERE team) on "Enhancing QA impact" at the Batumi State University (Batumi, Georgia) ), organized by NEO – Georgia with the participation of British expert Andy Gibbs and the support of the Education, Audiovisual and Culture Executive Agency (EACEA, Brussels).
During the seminar, experience was exchanged and the prospects for a coherent policy in the field of providing and improving higher education quality were discussed. The event took place with the participation of National experts of the EU Erasmus+ Program from Europe and Asia – Armenia, Georgia, Kazakhstan and Ukraine, as well as European experts.
Participants from Armenia, Georgia, Kazakhstan and Ukraine raised the level of understanding of the issues on promoting European approaches to quality assurance in higher education as an important objective of the European Higher Education Area, and had the opportunity to exchange experience on the implementation of internal and external quality assurance systems and their public impact that will accelerate national reforms in higher education and their effectiveness.
The seminar was attended by members of the National Team of Experts on Higher Education Reform – Yuriy Rashkevych, former Deputy Minister of Education and Science of Ukraine, Advisor to the Minister, Member of the National Qualifications Agency, Mychailo Wynnyckyj, Head of the Secretariat of the National Agency for Higher Education Quality Assurance and Svetlana Shytikova, NEO Coordinator in Ukraine.
Mychailo Wynnyckyj gave a presentation on the experience of developing a quality assurance system in Ukraine. Arrangements were also made for the visit of representatives of the NQAA – Georgia to Ukraine in order to advise and hold sessions for Members of the NQAA – Ukraine and Ukrainian educators at the annual Bologna Conference in Kyiv.
Info on event: https://erasmusplus.org.ge/en/news/kros-regionuli-seminari-khariskhis-uzrunvelqofis-sistemis-zegavlena