EHEA Ministerial Conference 2020 (19.11.2020, Rome, on-line)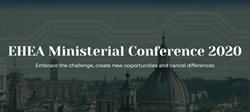 On 19 November 2020 the EHEA Ministerial Conference 2020 «Embrace the challenge, create new opportunities and cancel differences» took place in Rome, Italy. (м. Рим, Італія).
Information about the conference
The state of implementation of the Bologna Process provisions of 48 EHEA countries were discussed on the conference.
It is planned to adopt the Rome Communiqué, which will define the indicators and vectors of the European Higher Education Area (EHEA) for the next 10 years.
Rome Communiqué in English with translation into Ukrainian language: at the link here.
Annex I – at the link here
Annex II – at the link here
Annex III – at the link here
Report on the implementation of the provisions of the Bologna Process in the EHEA countries – in English language
Translation into Ukrianian language – here at the link