EU Erasmus+ Programme presentation within the Youth Forum: "The Youth Opinion is Important. Prospects for joining the NATO and EU" (25.02.2019, Pereyaslav-Khmelnytsky)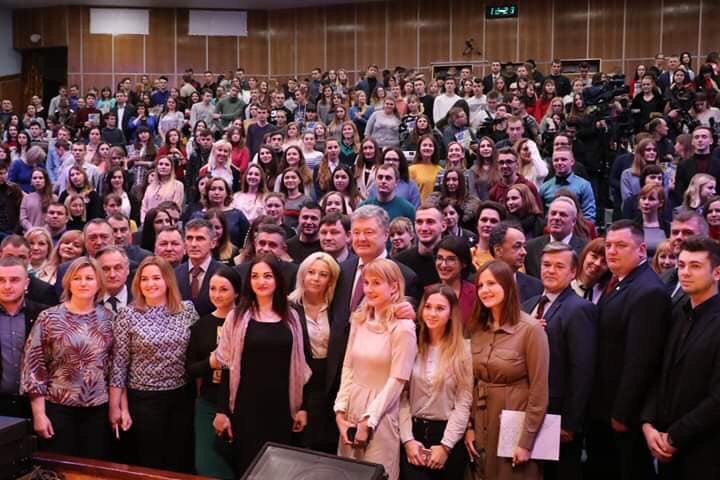 On 25 February 2019, the Youth Forum: "The Youth Opinion is important. Prospects for joining the NATO and EU" was organized in the Pereyaslav–Khmelnytsky Hryhoriy Skovoroda State Pedagogical University.
About 500 participants (students, HEIs, government, NGOs representatives of Kyiv region) joined the event.
Viktor KOTSUR, the University Rector, had an opening speech and stressed the importance of the Ukrainian science and education integration into the European space, education modernization streamlined with the European vector through the active participation of the University in Erasmus+: KA2 projects and other international initiatives.
Hugues MINGARELLI, Ambassador, Head of the EU Delegation to Ukraine, emphasized the unambiguous position of the European community, which strongly supports the movement of Ukraine toward the EU.
The President of Ukraine Petro POROSHENKO strongly emphasized that young people are the driving force of Ukraine on its way to the European Union and NATO. The Head of State also stressed the active role of the youth in the volunteer movement. The speaker also said that he had established the President's Fund to support research and educational programmes that will provide the grant support and will give an opportunity for Ukrainian youth to study in master's and PhD programmes, carry out research in leading world universities and research institutes.
Oleksandr YAREMA, the Deputy Minister of Youth and Sports of Ukraine shared information on the implementation of the Framework Programme on Co-operation in Youth Policy for 2016-2020 between the Ministry of Youth and Sports of Ukraine and the Council of Europe and presented the opportunities for joint projects on youth and youth mobility with the EU countries.
The speech of Dınara HABIBULLAIEVA, the President of the European Democracy Youth Network was related to educational and political training programmes for youth. Serhiy DZHERDZH, Head of the Ukraine–NATO Civic League, shared his thoughts on the Euro-Atlantic strategy in Ukraine as a model of security, which is important in the context of systematic consideration of the essential factors that serve the proper formulation of the foreign policy strategy of the state.
NEO-Ukraine managers Ivanna ATAMANCHUK and Veronika TKACHENKO presented the opportunities for students, HEIs and NGOs representatives within the EU Erasmus+ Programme: preparation of projects on ICM (KA1) and CBHE (KA2) in the field of higher education and youth and opportunities for individuals for students and youth (participating at ICM: study and volunteering, EMJMD).
Olena ROZHANSKA, the Head of the Irpin Youth Public Council, highlighted the opportunities and prospects for youth in the European Union.
Prepared using materials: https://www.president.gov.ua/en/news/prezident-ukrayinska-molod-rushijna-sila-nashoyi-krayini-do-53422 and https://www.president.gov.ua/en/news/dlya-uspishnogo-zdijsnennya-reform-nam-potribni-molodi-energ-5343