Information session for representatives of VET institutions on Erasmus+ opportunities (4.03.2021, online)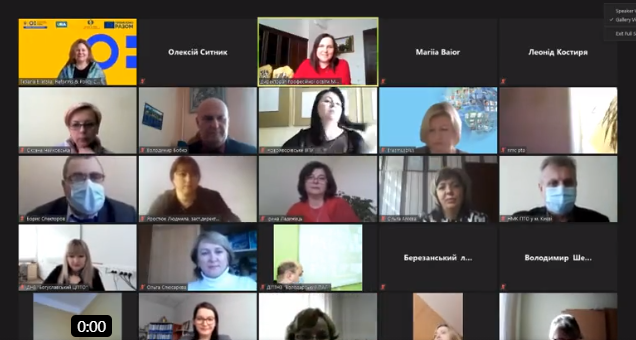 On 4 March 2021, an online webinar for representatives of VET isntitutions on new possibilities of the Erasmus+ Programme was held. The event was organized by the Reform Support Team, the Ministry of Education and Science of Ukraine together with the National Erasmus+ Office in Ukraine.
More than 700 representatives of vocational education institutions from different regions of Ukraine joined the online, and around 13,000 views were covered.
Iryna SHUMIK , Director General of the Directorate of Vocational Education of the Ministry of Education and Science of Ukraine, addressed the participants , emphasizing the importance of the European Union's support ro educational reforms and new opportunities for VET to be open in 202-2027. Speaker drew attention to the experience of implemented Erasmus+ projects in the field of higher education aimed at improving training in VETIs.
Tatiana BILETSKA, acting Director of the Reform Support Team (RST) of the Ministry of Education and Science of Ukraine, presented the EU project – Reform Support Team as an expert support to the Ministry of Education and Science in implementing reforms in vocational education and the New Ukrainian School. Tatiana BILETSKA presented Erasmus+ Programme and an overview of opportunities for Ukrainian organizations. Participants also learned about the priorities of the Programme for 2021-2027, about opportunities in the field of youth and sports, as well as about new window of opportunities for VET.
Zhanna TALANOVA and Ivanna ATAMANCHUK, NEO – Ukraine managers, joined the discussion of the results of the Erasmus+ Program for 2014-2020 and highlighted the prospects for the 2021-2027 for VET system in Ukraine. The speakers stressed the importance of international cooperation between HEIs, VET and others in the framework of reforms and European integration processes in Ukraine. Speakers provided recommendations for monitoring the experience of the European Education Area in order to study the framework approaches and harmonize educational processes in order to ensure quality and effective implementation of future Erasmus+ projects.
The attention of the event was also drawn to the preparatory work to ensure active participation in the coming calls, in particular to find local and foreign partners, create project teams, prepare projects ideas, increase the level of knowledge of foreign languages, register organization via FTOP, etc.
After the event and summing up, the participants joined the discussion session, receiving comprehensive answers to questions. As a result, these aspects of training will contribute to the high level of interest and involvement of VET representatives in the new opportunities of Erasmus+ and the modernization of national education.