Meeting of the Coordinating Group of Vice-Rectors on Educational and Methodological Work and International Relations (22.02.2018, Kyiv)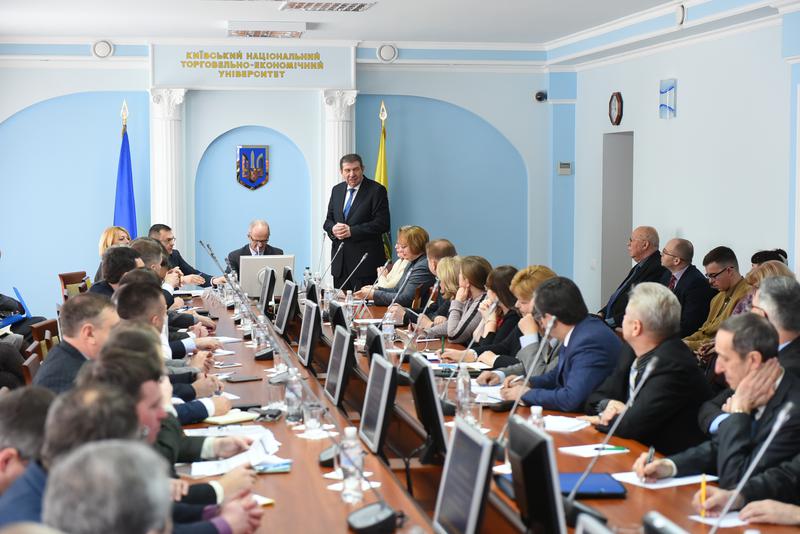 On February 22, 2018 in the building of Kyiv National University of Trade and Economic a meeting of the newly established coordination group of leading HEIs vice-rectors was provided. The main aim of the meeting was to present donors support via existed projects and programmes to expand international horizons and built new links with EU organisations.
The moderator of the event was Yuriy RASHKEVICH, Deputy Minister of Education and Science of Ukraine. Speakers of the event: Oleksandr YAKIMENKO, First Deputy Head of the State Inspection of Educational Institutions of Ukraine; Olga POLISHCHUK, the State Audit Office of Ukraine.
During the event, the participants received knowledge on recommendations on opportunities and specifics of the implementation of EU projects in the field of higher education in Ukraine, in line with: The Ukraine-European Union Association Agreement; the Resolution of the Cabinet of Ministers of Ukraine on the Procedure for the Involvement, Use and Monitoring of International Technical Assistance; Grant and Partnership Agreements; EACEA Instructions etc.
NEO-Ukraine representative during the presentation raised awareness of presented vice-rectors from different regions of Ukraine on opportunities and institutional benefits of the Erasmus+. Moreover, the speaker highlighted key recommendations and tips on project implementation in line with Ukrainian legislation.
Participants of the meeting got useful materials about the Erasmus+ and promo materials. In addition, the NEO-Ukraine presentation improved awareness of Erasmus+ for potential applicants and higher education stakeholders in general, and knowledge of the Erasmus+ for beneficiaries (organisations and individuals).
More information at the link – https://www.facebook.com/profile.php?id=100007910328632
NEO-Ukraine presentation (Ukrainian version) at the link