New 2 766 mobilities for Ukrainian and European universities for students and staff within the EU-funded ERASMUS+ Programme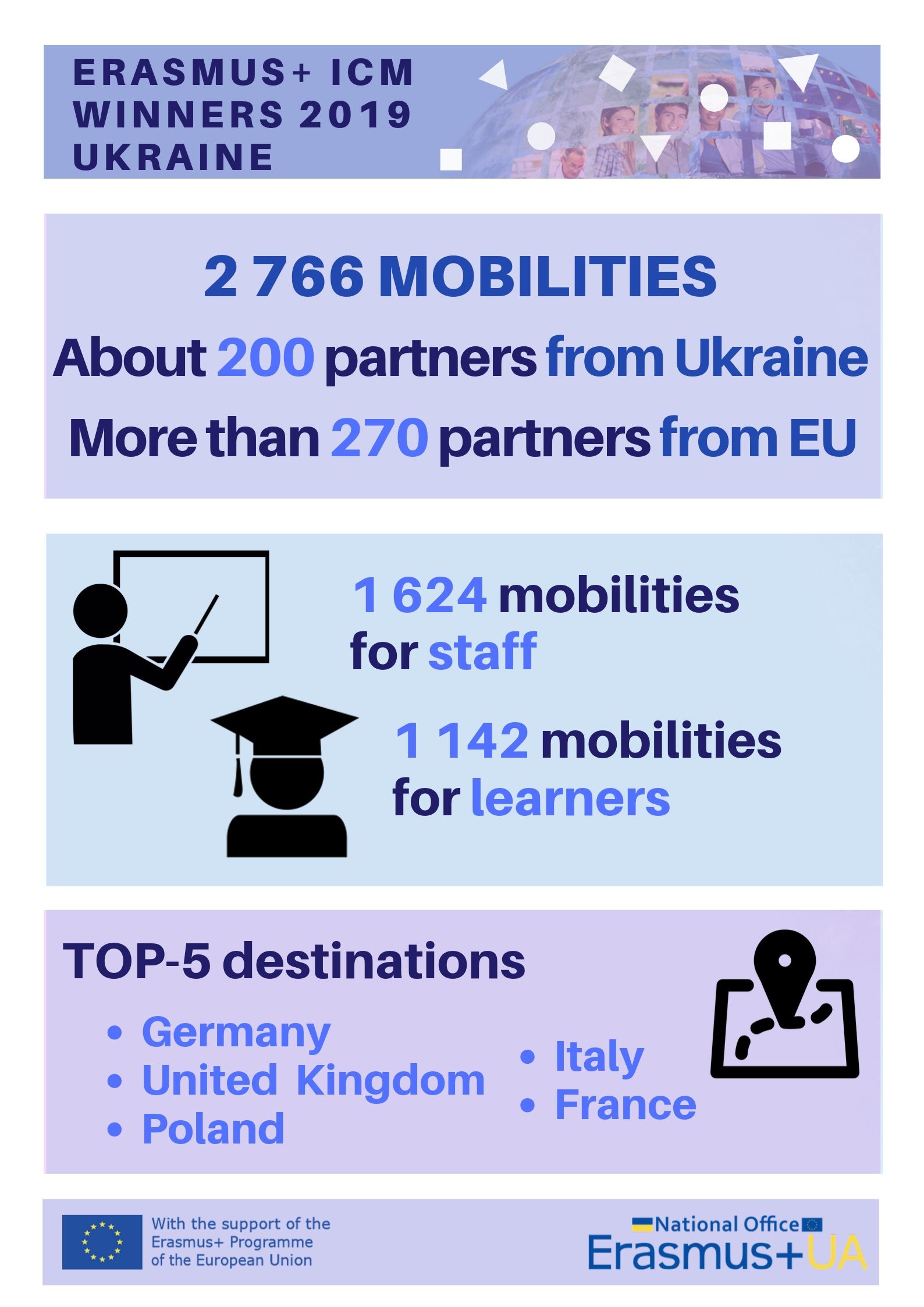 About 200 Ukrainian organizations together with more than 270 European partners won Erasmus+ grants for 2 766 mobilities for higher education institutions' students and staff. Within Erasmus+ International Credit Mobility Action such mobility grants will give opportunities for studying and traineeships, teaching and trainings under exchange of Ukrainian and European scholars.
2 766 funded mobilities include 1 142 mobilities for students and 1 624 mobilities for staff, in particular: 839 Ukrainian students will visit EU universities and 303 EU students will travel to Ukrainian universities; 931 Ukrainian staff will come to EU universities and 693 EU staff will go to Ukrainian one. As a result, the student mobility outcomes will be recogranised at home universities and reflected in the Ukrainian diploma supplement. At the same time, staff mobility results will be recognised as a cerfitied in-service training.
Almost 200 organisations in Ukraine represent higher education and research institutions, NGOs, private enterprises and government organisations from all over the country.
Among the winners, the following universities received the highest number of exchange mobilities:
Taras Shevchenko National University of Kyiv
Ivan Franko National University of Lviv
Lviv Polytechnic National University
Ukrainian Catholic University
Yuriy Fedkovych Chernivtsi National University
National Technical University of Ukraine "Igor Sikorsky Kyiv Polytechnic Institute"
National University of "Kyiv-Mohyla Academy".
Five relocated universities are also involved in the implementation of Erasmus+ mobility projects: Donetsk National University, Donetsk State University of Management, Donbas National Academy of Civil Engineering and Architecture, Luhansk Taras Shevchenko National University, Volodymyr Dahl East Ukrainian National University. In addition, the most popular European partners in mobility cooperation projects with Ukraine represent the following top 5 EU countries: Germany, United Kingdom, Poland, Italy and France.
Background information:
International Credit Mobility projects offer opportunities to exchange students and staff to Programme or Partner countries to study, teach, get training, as well as to participate in a student traineeship. During 2015-2018 calls for proposals 1 901 projects in cooperation between the universities from Europe and Ukraine were submitted to Erasmus+ National Agencies in 33 Programme Countries. 1 322 projects with about 200 Ukrainian partners were recommended for 13 051 scholarships funding for students and staff exchanges mobilities. The grant amount was over EUR 42 million.
The Guidelines, recommendations and other support information for the winners can be found at the link.

The database with Erasmus+ Actions projects for Ukraine is available at the National Erasmus+ Office – Ukraine at the link.

For more details on the Erasmus+ Programme, please contact the National Erasmus+ Office in Ukraine: www.erasmusplus.org.ua