The International Conference «THE FINANCIAL SECTOR EU AND SUSTAINABLE DEVELOPMENT: EUROPEAN EXPERIENCE, STRATEGIC ORIENTATIONS FOR UKRAINE» (June 6, 2019, Kyiv)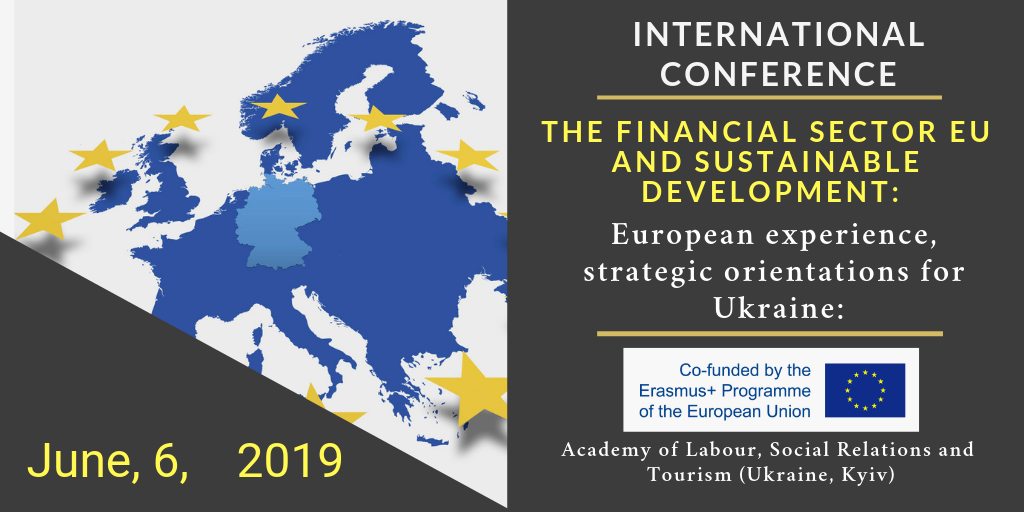 We sincerely invite you to The International Conference «The financial sector EU and sustainable development: European experience, strategic orientations for Ukraine» that will be taking place at Academy of Labour, Social Relations and Tourism (Ukraine, Kyiv, Kiltseva doroha, 3-А) on June 6, 2019. Event is organized according to Jean Monnet Module Project «The EU Financial Sector as a Driver for Sustainable Development: European Integration, Policy Reform and Networked Economy Perspectives»(575275-EPP-1-2016-1-UA-EPPJMO-MODULE).
This will be a platform to share experiences, new ideas and disclosure of the results of new research in the field of European Studies of financial sector and sustainable development. We invite representatives of higher education institutions, researchers, postgraduate students, governmental bodies, professional groups, civil society interested in the relationships between the financial sector and sustainable development.
Conference Areas
✓ Section 1. Current trends in the EU financial sector development in the context of sustainable development: structure, management models, current trends, challenges and contradictions, financial supervision and regulation reform to strengthen the role of the EU financial sector in ensuring sustainable development.
✓ Section 2. New tools for financing sustainable development in the EU and in the world: sustainable financial instruments, financial market innovation, green investment / finance, socially responsible investments, project finance, crowdfunding, financial support for small and medium businesses, social entrepreneurship and start-ups, financial business corporate social responsibility and other sustainable practices.
✓ Section 3. Implementing sustainable initiatives in the financial sector of Ukraine: the current state and prospects for the development of banking and non-bank financial institutions in the context of sustainable development, the problems and prospects of the financial sector in the context of European integration, the implementation of sustained initiatives by Ukrainian financial intermediaries, ways of reorienting the financial sector to ensure sustainable economic development Ukraine, Lessons and Opportunities of the EU Experience for Ukraine.
Key dates:
Until June 1, 2019 Register as a member of the conference by link: https://goo.gl/forms/hbAWiVDFIVW5AiJn2 Every author/ co-author filed a separate application!
Until June 1, 2019 Send conference materials (abstract in English) to conference organizers by e-mail: finsectoreu@socosvita.kiev.ua
June 6, 2019 Conference day.
Agenda:
9-00-10-00 – Registration of participants
10-00-12-00 – Panel discussion.
12-00-13-00 – Coffee break.
13-00-16-00 – Discussions in the sections.
16-00-16-30 – Summing up the conference.
For more details on participation and conference materials preparation, please contact Liudmyla Huliaieva – project coordinator, module leader of Jean Monnet Module Project «The EU Financial Sector…» , Associate Professor at the Department of Finance at The ALSRT, fhone: +38(050)411-48-12. E-mail: finsectoreu@socosvita.kiev.ua або glp2002@ukr.net, FB: https://www.facebook.com/liudmyla.huliaieva, Project FB: https://www.facebook.com/finsector.eu/