25 new projects will promote European Studies in Ukraine under EU-funded ERASMUS+ Programme: Jean Monnet Actions from 2019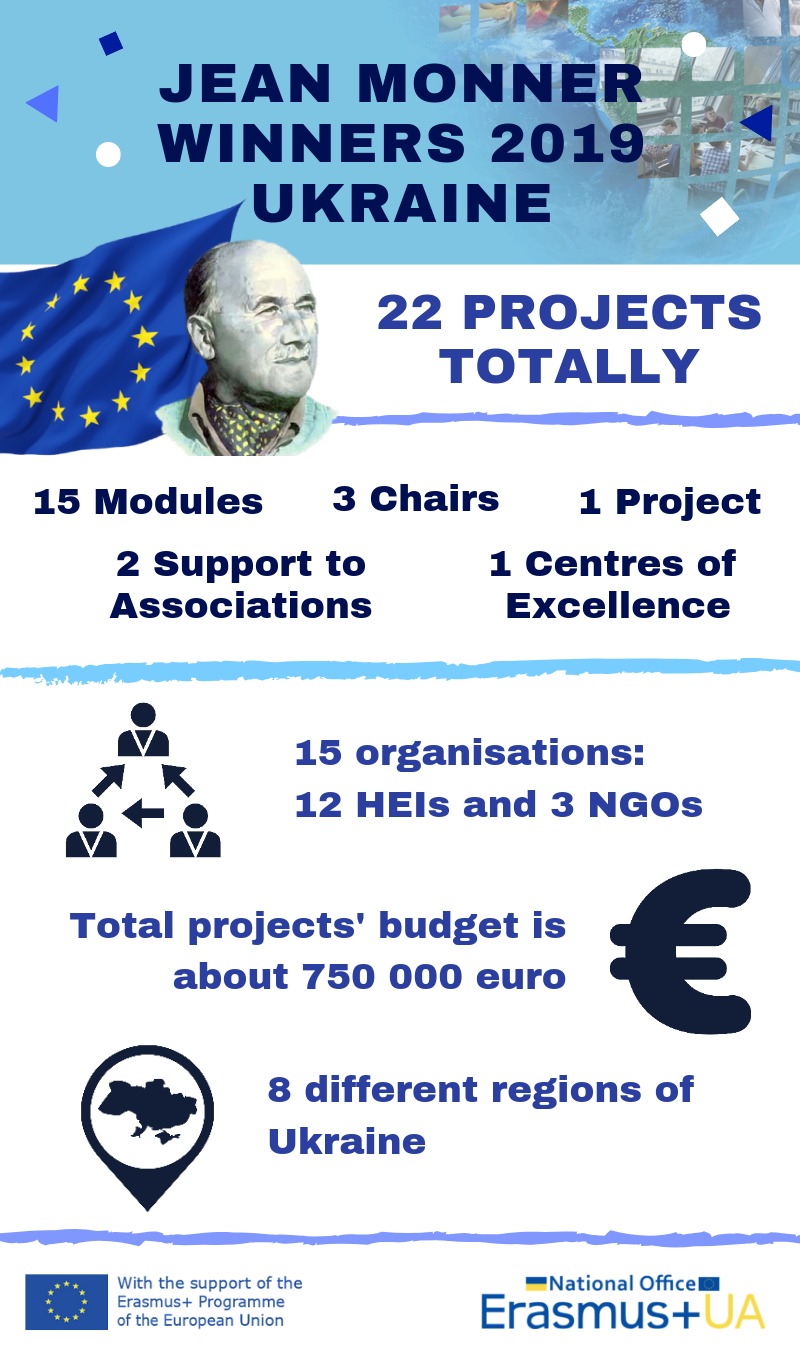 Among 285 project-winners from all over the world of the Call 2019 Erasmus+ Jean Monnet actions Ukraine has won 25 projects: 15 Modules on economic development, governance, regional policy, criminal policy, European values, EHEA, social and economic issues of refugees and migrants, protection of information, prevention of corruption; 3 Chairs; 1 Centre of Excellence; 1 Project on Cyber Security; 2 Support to Associations ; 3 Jean Monnet Networks.. Total projects' budget is about 750 000€.
15 organizations from different regions of Ukraine (Kyiv, Kharkiv, Odesa, Lutsk, Mykolaiv, Zaporizhzhya, Ternopil, Lviv) from September, 2019 will begin implementation of the Erasmus+ Jean Monnet projects:
12 higher education institutions: Borys Grinchenko Kyiv University, Kharkiv National University of Radio Electronics, Lesya Ukrainka Eastern European National University, Lviv Polytechnic National University, Odessa National I.I. Mechnikov University, Petro Mohyla Black Sea National University, Zaporizhzhia National University, National Economic University named after Vadym Hetman, Taras Shevchenko National University of Kyiv, Ternopil National Economic University, T.H. Shevchenko National University "Chernihiv Collegium", V. N. Karazin Kharkiv National University.
3 NGOs: European Studies' Platform for Sustainable Development; Public Organisation Ukrainian Institute of Crisis Management and Conflict Solution; Regional Center of European Educational Scientific Enterprises.
Background: In the context of five Erasmus+ Calls for Proposals published between 2014 and 2018 in total 575 proposals were submitted by Ukrainian organizations, out of which 57 Jean Monnet projects were selected for funding. Those projects include 41 Modules, 4 Chair, 4 Projects, 5 Support to Associations projects and 1 Centre of Excellence implemented in the field of European Studies by more than 40 universities, NGOs and research institutions from Ukraine. The total grant amounts more than 1 700 000€.
More detailed information on the Erasmus+ Jean Monnet Actions Call 2019 could be obtained here: https://eacea.ec.europa.eu/erasmus-plus/news/jean-monnet-activities-2019_en

Recommendations on reporting documents, logos, templates to be used etc. could be found at the EACEA Beneficiaries space: https://eacea.ec.europa.eu/erasmus-plus/actions/jean-monnet_en
Detailed information for JM project teams: http://erasmusplus.org.ua/erasmus/zhan-mone/vykonavtsiam.html
Additional information:
ERASMUS+ is the European Union Programme for 2014-2020 to support projects, partnerships, events and mobility in the areas of education, training, youth and sport. Within the Erasmus+ Programme, the Jean Monnet Activities aim at promoting excellence in teaching and research in the field of European Union studies worldwide. These activities also aim at fostering the dialogue between the academic world and policy-makers, in particular with the aim of enhancing governance of EU policies. Key activities include courses, research, conferences, networking activities, and publications in the field of EU studies.
For more details, please contact National Erasmus+ Office Ukraine: erasmusplus.org.ua
Projects list:
| | | | | |
| --- | --- | --- | --- | --- |
| 10641-EPP-1-2019-1-UA-EPPJMO-MODULE | LVIV POLYTECHNIC NATIONAL UNIVERSITY | EU competitiveness boosting: circular economy | 30.000,00 | Department of Foreign Trade and Customs (FTC) |
| 610664-EPP-1-2019-1-UA-EPPJMO-MODULE | PETRO MOHYLA BLACK SEA NATIONAL UNIVERSITY | "EU Governance and Politics of European Integration" | 25.704,00 | Svitlana Soroka |
| 610856-EPP-1-2019-1-UA-EPPJMO-MODULE | LVIV POLYTECHNIC NATIONAL UNIVERSITY | Logistics and Supply Chain Management: dissemination of European experience | 30.000,00 | Nataliya Hayvanovych |
| 611217-EPP-1-2019-1-UA-EPPJMO-MODULE | BORYS GRINCHENKO KYIV UNIVERSITY | State-international-public: European values and norms determining interdisciplinary university module (STIPENDIUM) | 15.120,00 | Tetiana Kostiuk |
| 611363-EPP-1-2019-1-UA-EPPJMO-MODULE | TH SHEVCHENKO NATIONAL UNIVERSITY CHERNIHIV COLEHIUM | EUROPEAN EDUCATIONAL AREA: OPPORTUNITY AND CHALLENGES FOR UKRAINE | 29.736,00 | Andrii Ostrianko |
| 611432-EPP-1-2019-1-UA-EPPJMO-MODULE | V. N. KARAZIN KHARKIV NATIONAL UNIVERSITY | Criminal policy of the European Union | 30.000,00 | Mykhailo Davydenko |
| 611599-EPP-1-2019-1-UA-EPPJMO-MODULE | ODESSA NATIONAL I.I. MECHNIKOV UNIVERSITY | Social and Economic Inclusion of Refugees and Migrants in European Union: Challenges for Ukraine | 30.000,00 | Tetiana Rodionova |
| 611631-EPP-1-2019-1-UA-EPPJMO-MODULE | V. N. KARAZIN KHARKIV NATIONAL UNIVERSITY | European Standards of Local Self-Government and EU Regional Policy | 30.000,00 | Alina Cherviatsova |
| 611665-EPP-1-2019-1-UA-EPPJMO-MODULE | V. N. KARAZIN KHARKIV NATIONAL UNIVERSITY | Infrastructure that have united Europe: Insights into the History, Recent Developments and Outlook for Capacities | 28.728,00 | Dmytro Mykolenko |
| 611674-EPP-1-2019-1-UA-EPPJMO-MODULE | V. N. KARAZIN KHARKIV NATIONAL UNIVERSITY | European Integration of Ukraine in Industry 4.0 | 28.728,00 | Sergiy Berenda |
| 611679-EPP-1-2019-1-UA-EPPJMO-MODULE | LVIV POLYTECHNIC NATIONAL UNIVERSITY | European Experience in Technology Transfer For Ukrainian Universities | 15.120,00 | Ihor Oleksiv |
| 611692-EPP-1-2019-1-UA-EPPJMO-MODULE | LVIV POLYTECHNIC NATIONAL UNIVERSITY | Data Protection in EU | 30.000,00 | Anastasiya Doroshenko |
| 611790-EPP-1-2019-1-UA-EPPJMO-MODULE | STATE HIGHER EDUCATIONAL ESTABLISHMENT ZAPORIZHZHYA NATIONAL UNIVERSITY OF THE MINISTRY OF EDUCATION AND SCIENCES OF UKRAINE | Pan-European convergence of legal, economic and cultural foundations for the prevention of corruption | 18.480,00 | Makarenkov Oleksii |
| 611988-EPP-1-2019-1-UA-EPPJMO-MODULE | KHARKIV NATIONAL UNIVERSITY OF RADIO ELECTRONICS | "EU Digital Single Market: Policy, Integration and Harmonization" | 28.560,00 | Maksym Kolisnyk |
| 612067-EPP-1-2019-1-UA-EPPJMO-MODULE | TERNOPIL NATIONAL ECONOMIC UNIVERSITY | European Regional Policy: Balance of Local, National and Pan-European Interests | 27.720,00 | Andriy Krysovatyy |
| 609859-EPP-1-2019-1-UA-EPPJMO-CHAIR | STATE HIGHER EDUCATIONAL INSTITUTION KYIV NATIONAL ECONOMIC UNIVERSITY NAMED AFTER VADYM HETMAN, SHEI KNEU NAMED AFTER V. HETMAN | European Integration Impact on Economic Security of EU Member-States | 34.848,00 | Volodymyr Tokar |
| 611478-EPP-1-2019-1-UA-EPPJMO-CHAIR | LESYA UKRAINKA EASTERN EUROPEAN NATIONAL UNIVERSITY | EU Studies at Lesya Ukrainka Eastern European National University | 47.520,00 | Andrii Boiar |
| 611810-EPP-1-2019-1-UA-EPPJMO-CHAIR | TH SHEVCHENKO NATIONAL UNIVERSITY CHERNIHIV COLEHIUM | CULTURAL DIMENSION OF EUROPE | 49.632,00 | Marina Keda |
| 610662-EPP-1-2019-1-UA-EPPJMO-PROJECT | PUBLIC ORGANISATION UKRAINIAN INSTITUTE OF CRISIS MANAGEMENT AND CONFLICT SOLUTION | The EU's Cyber Security and Digital Diplomacy: Strengthening the Bridge between Research and Policy | 60.000,00 | Tetyana Malyarenko |
| 611278-EPP-1-2019-1-UA-EPPJMO-SUPPA | EUROPEAN STUDIES' PLATFORM FOR SUSTAINABLE DEVELOPMENT | Enhancing European Union Studies and Research on Smart, Sustainable and Inclusive Growth in Ukrainian Universities | 50.000,00 | Igor Yakymenko |
| 611556-EPP-1-2019-1-UA-EPPJMO-SUPPA | REGIONAL CENTER OF EUROPEAN EDUCATIONAL SCIENTIFIC ENTERPRISES | The European experience of forming a food security system based on principles of sustainable agricultural land use development | 49.264,00 | Kotykova Olena |
| 611625-EPP-1-2019-1-UA-EPPJMO-CoE | TARAS SHEVCHENKO NATIONAL UNIVERSITY OF KYIV | Advancing European Studies in Ukraine: Interdisciplinary Approach | 59.520,00 | Oleksandr Shnyrkov |
| | | | | |
| --- | --- | --- | --- | --- |
| 10641-EPP-1-2019-1-UA-EPPJMO-MODULE | LVIV POLYTECHNIC NATIONAL UNIVERSITY | EU competitiveness boosting: circular economy | 30.000,00 | Department of Foreign Trade and Customs (FTC) |
| 610664-EPP-1-2019-1-UA-EPPJMO-MODULE | PETRO MOHYLA BLACK SEA NATIONAL UNIVERSITY | "EU Governance and Politics of European Integration" | 25.704,00 | Svitlana Soroka |
| 610856-EPP-1-2019-1-UA-EPPJMO-MODULE | LVIV POLYTECHNIC NATIONAL UNIVERSITY | Logistics and Supply Chain Management: dissemination of European experience | 30.000,00 | Nataliya Hayvanovych |
| 611217-EPP-1-2019-1-UA-EPPJMO-MODULE | BORYS GRINCHENKO KYIV UNIVERSITY | State-international-public: European values and norms determining interdisciplinary university module (STIPENDIUM) | 15.120,00 | Tetiana Kostiuk |
| 611363-EPP-1-2019-1-UA-EPPJMO-MODULE | TH SHEVCHENKO NATIONAL UNIVERSITY CHERNIHIV COLEHIUM | EUROPEAN EDUCATIONAL AREA: OPPORTUNITY AND CHALLENGES FOR UKRAINE | 29.736,00 | Andrii Ostrianko |
| 611432-EPP-1-2019-1-UA-EPPJMO-MODULE | V. N. KARAZIN KHARKIV NATIONAL UNIVERSITY | Criminal policy of the European Union | 30.000,00 | Mykhailo Davydenko |
| 611599-EPP-1-2019-1-UA-EPPJMO-MODULE | ODESSA NATIONAL I.I. MECHNIKOV UNIVERSITY | Social and Economic Inclusion of Refugees and Migrants in European Union: Challenges for Ukraine | 30.000,00 | Tetiana Rodionova |
| 611631-EPP-1-2019-1-UA-EPPJMO-MODULE | V. N. KARAZIN KHARKIV NATIONAL UNIVERSITY | European Standards of Local Self-Government and EU Regional Policy | 30.000,00 | Alina Cherviatsova |
| 611665-EPP-1-2019-1-UA-EPPJMO-MODULE | V. N. KARAZIN KHARKIV NATIONAL UNIVERSITY | Infrastructure that have united Europe: Insights into the History, Recent Developments and Outlook for Capacities | 28.728,00 | Dmytro Mykolenko |
| 611674-EPP-1-2019-1-UA-EPPJMO-MODULE | V. N. KARAZIN KHARKIV NATIONAL UNIVERSITY | European Integration of Ukraine in Industry 4.0 | 28.728,00 | Sergiy Berenda |
| 611679-EPP-1-2019-1-UA-EPPJMO-MODULE | LVIV POLYTECHNIC NATIONAL UNIVERSITY | European Experience in Technology Transfer For Ukrainian Universities | 15.120,00 | Ihor Oleksiv |
| 611692-EPP-1-2019-1-UA-EPPJMO-MODULE | LVIV POLYTECHNIC NATIONAL UNIVERSITY | Data Protection in EU | 30.000,00 | Anastasiya Doroshenko |
| 611790-EPP-1-2019-1-UA-EPPJMO-MODULE | STATE HIGHER EDUCATIONAL ESTABLISHMENT ZAPORIZHZHYA NATIONAL UNIVERSITY OF THE MINISTRY OF EDUCATION AND SCIENCES OF UKRAINE | Pan-European convergence of legal, economic and cultural foundations for the prevention of corruption | 18.480,00 | Makarenkov Oleksii |
| 611988-EPP-1-2019-1-UA-EPPJMO-MODULE | KHARKIV NATIONAL UNIVERSITY OF RADIO ELECTRONICS | "EU Digital Single Market: Policy, Integration and Harmonization" | 28.560,00 | Maksym Kolisnyk |
| 612067-EPP-1-2019-1-UA-EPPJMO-MODULE | TERNOPIL NATIONAL ECONOMIC UNIVERSITY | European Regional Policy: Balance of Local, National and Pan-European Interests | 27.720,00 | Andriy Krysovatyy |
| 609859-EPP-1-2019-1-UA-EPPJMO-CHAIR | STATE HIGHER EDUCATIONAL INSTITUTION KYIV NATIONAL ECONOMIC UNIVERSITY NAMED AFTER VADYM HETMAN, SHEI KNEU NAMED AFTER V. HETMAN | European Integration Impact on Economic Security of EU Member-States | 34.848,00 | Volodymyr Tokar |
| 611478-EPP-1-2019-1-UA-EPPJMO-CHAIR | LESYA UKRAINKA EASTERN EUROPEAN NATIONAL UNIVERSITY | EU Studies at Lesya Ukrainka Eastern European National University | 47.520,00 | Andrii Boiar |
| 611810-EPP-1-2019-1-UA-EPPJMO-CHAIR | TH SHEVCHENKO NATIONAL UNIVERSITY CHERNIHIV COLEHIUM | CULTURAL DIMENSION OF EUROPE | 49.632,00 | Marina Keda |
| 610662-EPP-1-2019-1-UA-EPPJMO-PROJECT | PUBLIC ORGANISATION UKRAINIAN INSTITUTE OF CRISIS MANAGEMENT AND CONFLICT SOLUTION | The EU's Cyber Security and Digital Diplomacy: Strengthening the Bridge between Research and Policy | 60.000,00 | Tetyana Malyarenko |
| 611278-EPP-1-2019-1-UA-EPPJMO-SUPPA | EUROPEAN STUDIES' PLATFORM FOR SUSTAINABLE DEVELOPMENT | Enhancing European Union Studies and Research on Smart, Sustainable and Inclusive Growth in Ukrainian Universities | 50.000,00 | Igor Yakymenko |
| 611556-EPP-1-2019-1-UA-EPPJMO-SUPPA | REGIONAL CENTER OF EUROPEAN EDUCATIONAL SCIENTIFIC ENTERPRISES | The European experience of forming a food security system based on principles of sustainable agricultural land use development | 49.264,00 | Kotykova Olena |
| 611625-EPP-1-2019-1-UA-EPPJMO-CoE | TARAS SHEVCHENKO NATIONAL UNIVERSITY OF KYIV | Advancing European Studies in Ukraine: Interdisciplinary Approach | 59.520,00 | Oleksandr Shnyrkov |