Intensified quarantine restrictions in Ukraine: recommendations for the implementation of EU-funded Erasmus+ projects (06.01.2021)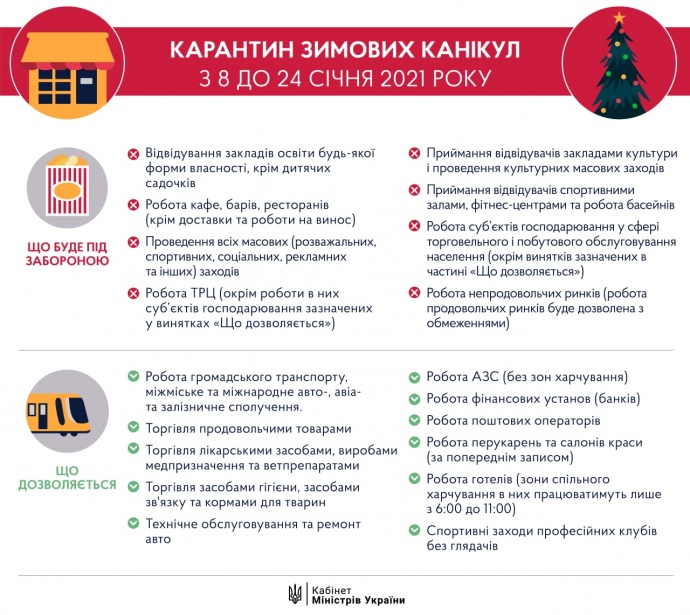 The Government of Ukraine introduced the stricter quarantine restrictions from January 8 to 24, 2021, inclusive. During the period of severe quarantine, it will be prohibited to visit educational institutions, trade in non-food products, hold any entertainment, sports or cultural events. At that, according to the Prime Minister, public transport will continue to operate, "so that people can go to work at those enterprises that will operate during the period of increased quarantine." There will also be allowed the operation of grocery stores, pharmacies, banks, postal operators, hotels.
More information on the website of the Ministry of Health of Ukraine

The National Erasmus+ Office in Ukraine Team emphasizes the importance to inform the coordinators and partners about the situation in Ukraine and in your institution and to plan activities for the time of stricter quarantine within Erasmus+ projects, taking into account the restrictions. Foreign and Ukrainian students and staff involved in International Credit Mobility should be informed and given the necessary support. For equipment purchases, please contact suppliers immediately to complete the process of obtaining and installing equipment.
Erasmus+ Programme Portal includes the section "Coronavirus impact" that includes recommendations and FAQs for both participants and organizations.

Recommendations for project teams and participants within Erasmus+ mobility projects at the link.

Facebook webinars
– "EU-funded Erasmus+ Programme during the COVID-19: challenges and solutions" at the link.
– "Implementation of Jean Monnet projects in the context of the COVID-19" at the link.
– "Erasmus+ projects on International Credit Mobility during the COVID-19: challenges and solutions" at the link.
COVID-19 news section via NEO – Ukraine website here.

Stay safe and healthy!