Participation in the kick-off meeting of CBHE OPTIMA project (23-25.02.2021, online)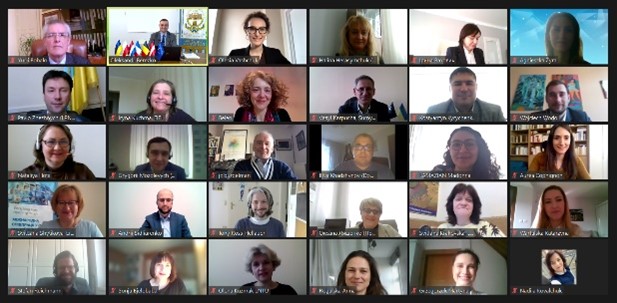 On 23 February 2020, the kick-off online meeting of the three-year Erasmus+ CBHE project OPTIMA " Open Practices, Transparency and Integrity for Modern Academia " took place.
The meeting was attended by representatives of the Ukrainian partners: Lviv Polytechnic National University, Ukraine; Vasyl' Stus Donetsk National University, Ukraine; Sumy State University, Ukraine; Lutsk National Technical University, Ukraine; National Agency for Higher Education Quality Assurance, Ukraine; State Institution «National Antarctic Scientific Center», Ukraine. Also, project manager from the European Commission's Education, Audiovisual and Culture Executive Agency, Svitlana SHYTIKOVA, NEO – Ukraine Coordinator, Olesya VASHCHUK, Chairman of the Council of Young Scientists at the Ministry of Education and Science; Pavlo ZHEZHNYCH, Vice-Rector of Lviv Polytechnic and project coordinator joined the event.
After the welcoming speeches, Oleksandr BEREZKO, Project Manager, made a presentation-review of OPTIMA achieved results. Ilya KHADZHINOV, Vice-Rector of Vasyl Stus Donetsk National University, spoke about the problem of Ukrainian relocated universities, which the project focuses on. Tony ROS-HELLOR, Head of the Open and Reproductive Research Group at the Technical University of Graz, presented the concept of Open Science and Open Review. Sonia BELOBABA, Vice-President of the European Academic Integrity Network (ENAI), shared European best practices on this issue.
NEO – Ukraine Coordinator Svitlana SHYTIKOVA joined the meeting and provided the project team with key recommendations on project implementation and preparation for the kick-off meeting. Participants of the meeting improved awareness on promotion and dissemination of achieved project results and activities, enhanced understanding of Erasmus+ financial management rules, and increased cooperation, synergy with key stakeholders to spread planned impact via individuals, institutional, local and national levels.