Participation in the preparation and presentation of the "Euromap-2" research (25.09.20)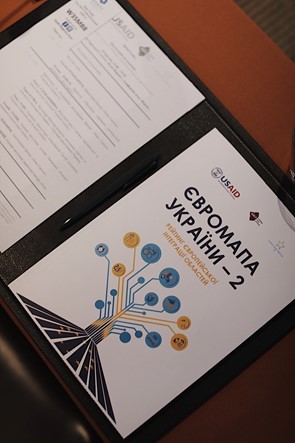 On 25 September 2020, the New Europe Center organized an event to present and discuss "Euromap-2. Rating of European integration in regions" research. The research was jointly prepared by the New Europe Center with the support of the Government Office for Coordination of European and Euro-Atlantic Integration and other stakeholders.
Olga STEFANISHYNA, Deputy Prime Minister for European and Euro-Atlantic Integration of Ukraine, Taras KACHKA, Deputy Minister of Economic, Trade and Agriculture of Ukraine, Roland KOVACH, Director of the Program for Promotion of Public Activity "Join!", Tanel TANG, Head of Strategic Communications of the Support Group of Ukraine in the European Commission, Andriy GODYK, First Deputy Head of the Regional State Administration and other Ukrainian experts, analysts and politicians took part in the public discussion.
The National Erasmus + Office in Ukraine actively joined the preparation of materials and provided information on the participation of Higher Education Institutions in Erasmus+ projects all around Ukraine.
The New Europe Center aims to develop analytical research and conduct project activities in order to promote European standards and practices in Ukraine, as well as to increase support of Ukraine's European and Euro-Atlantic prospects among opinion leaders and officials of the EU and the NATO.
More about "New Europe Centre" at the link.

More information and video recording at the link.